HAPPY EASTER

These lovely windows adorn a local treasure, Riverside Chapel in the cemetery of the same name.
Entitled "The Easter Morn", the central panel depicts a scene from the Gospel of St. Matthew. In the early dawn scene, the three women are informed by the two flanking angels that the tomb of Christ is empty. "He is not here: for He is risen." (Matthew 28:6) is subtly tucked into the design in an ornate gothic script.
These works of art came from the Louis Comfort Tiffany Studio like the set in Thompkins Memorial Chapel at the Masonic Home in Utica

Rejoice, for He is Risen!

765 East Seneca Street
Oswego, NY 13126
(315) 207- 0127


Meetings:
2nd and 4th Tuesday of each month
Dinner: 6:30 p.m.
Meeting: 7:30 p.m.
RSVP at secretarylakecity@gmail.com

Upcoming events:
April 14, 2015
Stated Communication (2nd Tuesday)
Work of the evening: 3rd Degree, Practice
Session, first part only
6:30PM Dinner ($8) - 7:30PM Meeting
All Masons Welcome
April 19, 2015
Pancake Breakfast (3rd Sunday)
Breakfast Buffet - ALL YOU CAN EAT!
Freewill Breakfast:
Donations accepted, but not expected.
8:00AM - 12:00PM
Public Event - All Welcome
April 28, 2015
Stated Communication (4th Tuesday)
6:30PM Dinner ($8) - 7:30PM Meeting
All Masons Welcome

Fellowship Lunch Club
Upcoming Venues

Apr. 02 Maria's, 111 W 2nd St., 216-4562
Apr. 09 Vona's, W. 10th & Utica, 343-8710
Apr. 16 Pies Guys 6 Baylis St., 343-0533
(at 104)
Apr. 23 Lunch at the Lodge, 207-0127
Bring your own lunch
______________________________________________________________________________________________________________________________________________________
Freewill Pancake Breakfast/Breakfast Buffet
Sunday April 19 8AM - 12PM
ALL YOU CAN EAT from our huge selection!
Donations accepted but not expected.
Menu:
Pancakes, French Toast, Eggs, Bacon, Sausage, Home Fries, Coffee, Tea, Milk,
Orange Juice, and all the fixin's, even real butter!
FREEWILL BREAKFAST: DONATIONS ACCEPTED BUT NOT EXPECTED
Bring friends, relatives, spouses, kids, everyone welcome!
Funds raised go to support our efforts with local Community Groups and
Masonic Charities and to support the Lodge.
Jointly Sponsored by Lake City Lodge No. 127 F & AM &
Lake City Victoria Chapter No. 205, Order of the Eastern Star
Lake City Lodge No. 127, Oswego's Masons monthly pancake breakfasts have been used to support lots of local groups like:
The Lady Bucs Softball Team, Friends of Oswego County Hospice, The H. Lee White Museum,
Oswego County Habitat for Humanity, The Oswego Community Youth Orchestra, Cub Scout Pack 888, and many others.
We also offer "Free Will" breakfasts from time to time where donations are accepted, but not expected.
Freemasons are one of the most charitable organizations on the face of the earth, in the US alone they raise over 2 Million Dollars a Day for Masonic Charities and that's not including the funds raised for community groups.
Many Masonic Charities are in the medical field, like the Shrine Hospitals for children with crippling diseases and burns, the Masonic Medical Research Laboratory which works on cures for heart disease, the Knights Templar Eye Foundation working on diseases of the eye.
---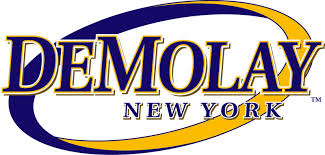 M:.W:. Calvin G. Bond Chapter now working!!
Open to all young men ages 12 to 21
For more information contact:
R:. W:. Gary Visconti (Hiram) 315-529-1936
W:. Duane Crapser (Mexico) duane.crapser@facebook.com
Bro. Art Webb (Lake City) artwebb1217@yahoo.com/315-460-6414



The seven basic principles of DeMolay are filial love, reverence for sacred things, courtesy, comradeship, fidelity, cleanliness, and patriotism.

Filial love, the bond between parents and their children, is ranked first since this virtue has taught millions of DeMolays to strive to repay the care, so often under appreciated, our parents give to us.

DeMolay's second principle, reverence for sacred things, teaches every member to honor his promises and to respect the religious beliefs of others, while keeping his own.

Society today often lacks common courtesy, DeMolay's third principle. A courteous person is admired, serves as an example for others, and elicits respect from adults and peers. This allows more opportunities since courteous persons gain the attention of others.

The fourth principle, comradeship, is central to DeMolay. Jacques DeMolay and his companions held true to each other until death, and each of us should never forget this great example of true comradeship. Our common goals, pledges, and vows bond all DeMolays into a fellowship that cannot be broken.

Fidelity is the essence of every DeMolay's promise to remain loyal to every other DeMolay. Many of us will never be confronted with a situation such as Jacques DeMolay faced, yet each of us should be ready to take the necessary measures to live up to the vows we take as DeMolays.

The sixth principle of DeMolay is cleanliness, not the bodily cleanliness that we all practice, but cleanliness in every thought, word, and deed. This principle encourages us to maintain a civil tongue and polite manner while avoiding vulgarity and hurtful pranks.

Patriotism, the final principle of the Order of DeMolay, hits close to home with the horrible national tragedy of 9/11 which awoke a new sense of nationhood. Many died on that fateful day, and many more are facing danger today as they continue to make sacrifices for their country. Their examples inspire patriotism in the hearts and minds of every young man in DeMolay.
Jurisdiction
Lake City Lodge No. 127 operates under the jurisdiction of The Grand Lodge of Free & Accepted Masons of the State of New York. Please visit the
Grand Lodge of New York
website