Weekly Inspiration
From Brother Samuel Clemens (and above)
"In the beginning of a change the patriot is a scarce man, and brave, and hated and scorned. When his cause succeeds, the timid join him, for then it costs nothing to be a patriot."
–Mark Twain


Fellowship Lunch Club
Upcoming Venues

Mar. 05 Red Sun, 209 W 1st Street, 343-2418
Mar 12 Azteca, 53 E. Bridge St., 341-7045
Mar. 19 Lunch at the Lodge
Bring your own lunch, 207-0127
Mar. 26 Kampai Hibachi Steakhouse,
311 W Seneca, (104), 343-8889
Apr. 02 Maria's, 111 W 2nd St., 216-4562
Apr. 09 Vona's, W. 10th & Utica, 343-8710

765 East Seneca Street
Oswego, NY 13126
(315) 207- 0127


Meetings:
2nd and 4th Tuesday of each month
Dinner: 6:30 p.m.
Meeting: 7:30 p.m.
RSVP at secretarylakecity@gmail.com

Upcoming events:
February 24, 2015
Stated Communication (4th Tuesday)
6:30PM Dinner ($8) - 7:30PM Meeting
All Masons Welcome
February 28, 2015
Deputy Grand Master's Town Hall Meeting 2015 - Oswego District
Where: Lake City Lodge No. 127
Time: 2:00PM - 4:00PM
Address: 765 E. Seneca Street, Oswego
February 28, 2015
64th Annual George Washington Banquet
with R:.W:. Jeffrey Williamson
Where: Lake City Lodge No. 127
Time: 6:00PM Social Hour
6:30PM Dinner ($15.00)
7:30PM Key Note Speaker
Musical Performance by an Ensemble of the Oswego Community Youth Orchestra
Address: 765 E. Seneca Street, Oswego



Mini ClassifiedFREE ITEM!!!!!

1- chair lift free for the taking. It worked fine when we took it down two weeks ago. It was in Hannibal Lodge #550 we also have the books for the lift. Contact Ron James at

315-598-3346
The 64th Annual George Washington Banquet
at Lake City Lodge No. 127 F & AM in Oswego
INVITATION
For Masons, Eastern Star & their Spouses/Significant Others
Keynote Speaker: R:.W:. Jeffrey Williamson Deputy Grand Master of Masons in the State of New YorkSpecial Performance by an Ensemble of the Oswego Community Youth OrchestraSaturday, February 28 - Social Hour: 6:00PM - Dinner: 6:30PM - Talk: 7:30PMCost: $15 – Dress: Coat & Tie (women equvalent) – Reservations requiredReserve with the Secretary, W:. Pat Fasulo at:
secretarylakecity@gmail.com
or call 652- 1561, if no answer, leave a message.
Lake City Lodge No. 127/Oswego Masonic Hall is located at:765 E. Seneca St. Oswego
Greetings Brethren & Sisters!
Please RSVP as soon as possible to attend this event. Due to the importance of RSVPS for this event, I will not be using standard reservations this time, so
everyone
must RSVP. Thank you….See you soon!
RSVP to:
secretarylakecity@gmail.com
or call 652-1561.
Our evening begins with a social hour during which we shall enjoy beverages & appetizers, followed by a sumptuous repast lovingly prepared by the Ladies of Lake City Victoria Chapter No. 205, Order of the Eastern Star under the direction of R:.W:. Cynthia Sanders, Worthy Matron.
We will be serenaded during the latter half of our dinner by a Musical Ensemble made up of members of the Oswego Community Youth Orchestra.
After Dinner our Keynote Speaker, R:.W:. Jeffrey Williamson, Deputy Grand Master of Masons in the State of New York will deliver his remarks. Don't miss this wonderful celebration in honor of our First President, Brother George Washington.
Deputy Grand Master – Jeffrey M. Williamson
RW Jeffrey M. Williamson is currently serving as the Deputy Grand Master of the Grand Lodge. He is a 33rd Degree Mason; Past Grand High Priest of New York, and served as Deputy General Grand High Priest of the General Grand Chapter RAM International.
Professionally, RW Jeffrey M. Williamson is a Project Manager-Engineer for Ferguson Electric of Buffalo, NY, which is one of the largest electrical contractor in the western region of New York, and holds all of the Master Electrician Licenses required for the various municipalities located in that area. He is also responsible for electrical design-build, estimating and project management.
In what little spare time he has, Brother Jeff enjoys spending time in the great outdoors which includes fly fishing, hunting and traveling. Brother Jeff is celebrating his 35th year in the Craft, and has an active and enjoyable life. He is married for 40 years to Carla Williamson; they have two sons, a daughter-in-law and two granddaughters. Bro. Jeff is an Ordained Elder and member of the Alden Presbyterian Church and a former Clerk of Session. He is involved in the Western New York community and also serves as Chairman of the Ferguson Electric's United Way of Buffalo and Erie County Annual Campaign for more than 14 years having raised over a million dollars for this major community charity.
Oswego Community Youth Orchestra
For 9 seasons the finest young musicians in the Oswego community have been making wonderful music for audiences of all ages, we are honored to have an ensemble of their members perform for us this evening.
Don't miss this Premier Event in the Winter Masonic Season in Central New York
Make your reservations today! W Pat Fasulo is waiting for your call or email.
RSVP to:
secretarylakecity@gmail.com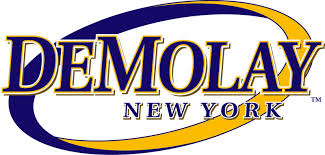 M:.W:. Calvin G. Bond Chapter now working!!
Open to all young men ages 12 to 21
For more information contact:
R:. W:. Gary Visconti (Hiram) 315-529-1936
W:. Duane Crapser (Mexico) duane.crapser@facebook.com
Bro. Art Webb (Lake City) artwebb1217@yahoo.com/315-460-6414



The seven basic principles of DeMolay are filial love, reverence for sacred things, courtesy, comradeship, fidelity, cleanliness, and patriotism.

Filial love, the bond between parents and their children, is ranked first since this virtue has taught millions of DeMolays to strive to repay the care, so often under appreciated, our parents give to us.

DeMolay's second principle, reverence for sacred things, teaches every member to honor his promises and to respect the religious beliefs of others, while keeping his own.

Society today often lacks common courtesy, DeMolay's third principle. A courteous person is admired, serves as an example for others, and elicits respect from adults and peers. This allows more opportunities since courteous persons gain the attention of others.

The fourth principle, comradeship, is central to DeMolay. Jacques DeMolay and his companions held true to each other until death, and each of us should never forget this great example of true comradeship. Our common goals, pledges, and vows bond all DeMolays into a fellowship that cannot be broken.

Fidelity is the essence of every DeMolay's promise to remain loyal to every other DeMolay. Many of us will never be confronted with a situation such as Jacques DeMolay faced, yet each of us should be ready to take the necessary measures to live up to the vows we take as DeMolays.

The sixth principle of DeMolay is cleanliness, not the bodily cleanliness that we all practice, but cleanliness in every thought, word, and deed. This principle encourages us to maintain a civil tongue and polite manner while avoiding vulgarity and hurtful pranks.

Patriotism, the final principle of the Order of DeMolay, hits close to home with the horrible national tragedy of 9/11 which awoke a new sense of nationhood. Many died on that fateful day, and many more are facing danger today as they continue to make sacrifices for their country. Their examples inspire patriotism in the hearts and minds of every young man in DeMolay.
Jurisdiction
Lake City Lodge No. 127 operates under the jurisdiction of The Grand Lodge of Free & Accepted Masons of the State of New York. Please visit the
Grand Lodge of New York
website